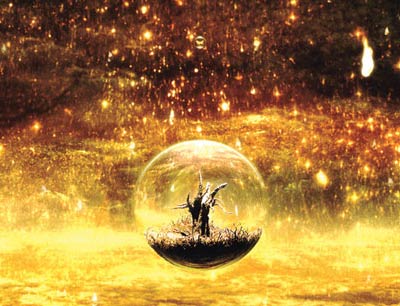 http://www.youtube.com/watch?v=hA2IpUTZkls
the idea of 'Death is the road to awe' is just a little piece of this movie... is not that this couple live forever, but it's their soul actually live forever.
each phase of 3, reflects different ways of attitude but has one meaning : togetherness above all... love described different in these 3 phases... the 1st phase, love.. is to sacrifice... the man sacrifices himself in the name of love to give the tree of life an absolute life...
the 2nd phase is when love is possession... you shouldn't be greedy and possess love, coz a heart is free... you might found yourself in doom and drowned in love to death.
the 3rd phase is when you let her go... the one you love, without taking, you just need to give... just to love...
there's a moment when the lights went out at the 1st and 3rd phase, means... in darkness you can closed your eyes, ears, nose, seeing the true universe, search deep inside your soul, into your memories of centuries those had been hidden to find the true answer... the proper way ( there's never been the right way in life ) to live the life... meanwhile the man at the 2nd phase ( the phase whenever the promises and bond took place ) didn't get the dark moment... he only walk into the light... yet he's greedy and he's doomed... so the ring belongs to the man at the 1st phase... coz he'd found the proper way to finish his duty
why the man at the 3rd phase lost the ring, it's a symbol... soul and heart can never be locked, bonded by the strongest ring or even marriage and promises... soul and heart are free... thus the man in the 3rd phase still loyal to his wife even he lost the ring... like my true love when he lost the ring I gave, still... he gazed me with his eyes full of love and all his heart... how can not I always melt by that gaze of love... sure... I'll be damned...